Donate
YOUR GRACIOUS CONTRIBUTION HELPS SUPPORT IN MANY WAYS
From routine services like spaying/neutering to reconstructive surgery, the Outer Banks SPCA is committed to providing quality care for all of our residents. Every year we face new challenges and, as an Open-Admission shelter, we never quite know what those challenges will be. Your donation will help these animals thrive! Thank you so much for your desire to help us care for the hundreds of animals in need that come through our door every year. Because of the generous support from incredible donors like you, we can keep up with our mission to provide the best care for the homeless cats, dogs, and other small and wild animals in the OBX community.
Donate by Phone
To pay by phone with your credit/debit card,
please call 252-475-5620.
Donate by Check
To pay by check, please mail to: PO Box 2477, Manteo NC 27954 with the check made out to "Outer Banks SPCA" – you can designate your donation in the memo!
If you would like to host your own Fundraiser or Donation Drive benefitting the OBX SPCA, please call 252-475-5620 or email billc@obxspca.org
Gifts or Memorials
Finding the perfect gift for an animal you love just got easier! Give a monetary donation to the Outer Banks SPCA and the gift recipient will receive a notification of the special donation in his/her name. Donations can also be made in memory of a loved one or pet that has passed away.
Tribute Tile
The Outer Banks SPCA invites you to honor your pet and support the SPCA with a Commemorative Pet Tile.
Imprinted with a beloved pet's color photo and name, commemorative tiles are permanently installed on the interior walls of our Dare County Animal Shelter, and serve as an everlasting tribute to the love and bond between animals and their families. Thousands of visitors each year see these furry faces decorating our walls and many will visit their own personal tile again and again to remember a special pet.
A $500 donation receives an 8" x 8" tile and $250 donation receives a 4" x 4" tile. All donations help the Outer Banks SPCA to find all adoptable animals' homes. Learn more here.
Matching Gifts
Check with your employer's Human Resources or Community Relations department to see if the company will match gifts for employee contributions or volunteer hours. This is a very easy way to give back to the animals!
Charitable Funds
Does your business or organization set aside philanthropic funds to support worthy causes in the communities where your employees live? Consider adding the OBX SPCA to your charitable giving program! All donations are tax deductible.
Gifts of Securities, Real Estate, or Other Property
We gratefully accept most gifts of publicly traded securities, real estate, and other similar property, subject to our gift acceptance policies. Generally speaking, these gifts are valued at fair market value, typically reaping significant income tax benefits for the donor. Please contact us to discuss your options. Please contact billc@obxspca.org to discuss your options.
Legacy Gifts
One of the best ways to support our efforts is by naming us as a beneficiary of a life insurance policy, a retirement account, or your estate through your will. Working with you and your advisors, we strive to come up with the right plan to fit the needs of you and your family. Please contact billc@obxspca.org for more information about Legacy Gifts.
Frequently Asked Questions:
Are donations tax-exempt?
Yes! We are a 501(c)(3) recognized by the IRS. Our tax ID/EIN number is 56-1590963.
Where do I send a donation made by check?
Thank you for your desire to donate to our cause! Our mailing address is:
Outer Banks SPCA
PO Box 2477
Manteo, NC 27954
What are other ways to donate monetarily besides mailing a check?
There are various ways you can donate to the OBX SPCA. You can make a cash donation when you visit the animals at the shelter or at an event, you can call our main number (252-475-5620) and make a donation over the phone with a credit or debit card, you can donate with a cashier's check from your bank, or you can donate with your credit or debit via our website.
When I donate monetarily, what is my money really supporting?
All donations made to the Outer Banks SPCA support saving the lives of hundreds of animals each year that come into our care. Unless you've designated where you'd like your funds to be used, your monetary donation will be used where it is needed the most, whether that is covering a portion of heart worm treatment, providing food and medicines for the animals, or helping to cover emergency surgeries that arise. Every donation is critical to our continued success as an organization.
Can I give to a specific program or purpose?
If you are mailing a check, just indicate in the memo section how you'd like us to use your gift or attach a letter describing how you would like your donation to be used. If you're donating over the phone, let our staff member know where to direct your gift. If you're donating online, please select from the drop-down menu to select your designation. If you do not care to specify where your gift is used, please select "General Donations." If you are unsure how to designate your donation, please contact us at 252-475-5620 or spca@darenc.org.
How do I know if my employer matches my charitable giving?
Many philanthropic employers understand the importance of giving and supporting their employees in how they want to impact their community. Because of this, many employers offer a matching incentive and will sometimes double, or triple, your donation! Many of these businesses and companies make it easy to give to organizations their employees support by helping to set up a seamless transaction each pay period. Talk with your HR department to discuss how you can schedule a set amount to automatically donate to the Outer Banks SPCA, and if they will match it.
How can I donate in-kind (non-monetary gifts)?
We love and need in-kind items such as household items like used blankets, towels, wash cloths, pillowcases, dog beds, etc. You can bring these items to our shelter in Manteo. Our physical address is 378 Airport Road, Manteo, NC 27954. You can also drop off items at PetSmart in Nags Head or at Jack Brown's Beer & Burger Joint in Kill Devil Hills. We also have an Amazon Wishlist, here, that you can order from and have items delivered directly to our door. If you would like to host a donation drive or have a question about items we can use, please contact us at info@obxspca.org.
Are there any in-kind donations that you are not able to accept or use with your animals?
We are grateful for your donation! However, there are some items that we cannot use because of our sanitation standards. Examples of these items include pillows, mattresses, carpeted stairs, or carpeted scratching posts or cat trees. We'd love to use these items, but there is no way for us to sterilize them after use. Please check out other local non-profits that could benefit from these items.
I don't want my in-kind donations to go to waste. Are my in-kind donation items truly helpful?
Donated in-kind supplies are vital to our success in caring for our residents. If you have a question or are unsure about whether we can use an item you'd like to donate, please give us a call 252-475-5620.
What is your Tax ID number?
Our Federal Tax ID/EIN number is: 56-1590963
Donation Collection Box
The Outer Banks is an amazingly supportive community.  We would like to thank the businesses that kindly host one of our donation boxes so their customers can support our animal welfare programs.
If your business would like to host one of our donation collection boxes, please call 252-475-5620 or email billc@obxspca.org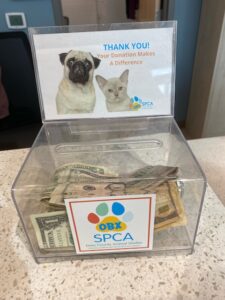 Your donation is tax-deductible. The Outer Banks SPCA is a 501(c)(3) tax-exempt, nonprofit organization.